HELLO and WELCOME TO JOSLIN FITZGERALD'S PREMIER WEBSITE, where Best Selling children's books have been Professionally turned into ONE-OF-A-KIND ANIMATED MOVIES!
But before we chat about the children's books, if you are looking for information about the ARISING WRITERS. To FREELY have your song or book promoted on Joslin Fitzgerald's International ARISING WRITER Blog, click here
Or as a Reader and Music Lover who would like to find the NEXT New Best Seller, also called the unknown books, or unheard-of songs. You too need to go to Joslin Fitzgerald's Awesome International Blog called ARISING WRITERS
NEXT FOR SOMETHING ELSE NEW, to get YOUR BOOK PUBLISHED, or to have a One-of-a-Kind BOOK COVER CREATED, to receive more information about Joslin Fitzgerald's International Publishing Company go to…
Finally, to purchase the Merry Movies that are now available Digitally click ON ANY OF THESE BLINKING SPOTS. AND FOR MORE NEWS ABOUT WHAT ELSE JOSLIN IS DOING…. READ ON! Yes, that's a great idea! Because there will be more, NEW JOSLIN NEWS COMING SOON!
Here is some more NEW NEWS…The MERRY MOVIES MAY BE GOING TO HOLLYWOOD SOON! Yes, all five of these Cool, unique Merry Movies that have just been made from Joslins Bestselling children's books…are being represented by an award-winning screenwriter and looked at by Big HOLLYWOOD producers!
For more news Joslin is now helping other Authors publish their books as she offers her Publishing teams International expertise by providing world class book covers, and great layouts for customers through her company CIRCLES LEGACY PUBLISHING LLC. For examples on covers please look at her book covers below. And for more Publishing information, on how Joslin can help you design a successful Book Cover, or help you Publish your book. Or by using her digital-design skills she can make a specialized Animated BOOK TRAILER for you please email her at joslinfitzgerald@att.net or arisingwriters@gmail.com
Plus, as a world known Author Joslin was approved to be a mentor to 2 College Seniors as they are learning firsthand information about marketing, promotion also business from a professional Author. So, as ARISING WRITERS spotlights creators on a one-of-a-kind blog where they showcase work at arisingwriters3.blogspot.com AS A WRITER OR READER YOU WILL LOVE THIS ARISING WRITERS BLOG!… For more information on how Your book, band, or song can be FREELY displayed on this new blog by this awesome team, please email arisingwriters@gmail.com or joslinfitzgerald@att.net
But in the meantime, as you are looking into that NEW NEWS…we WELCOME you to the web site of Author Joslin Fitzgerald's bestselling Children's Books too! And as, you visit our web site you will enjoy watching the Movie Clips, while you read about these One-of-a-kind Fairy Tales that you can buy on Amazon, Walmart, Barnes and Noble, also most distributors. Likewise, these cool, exciting books can be purchased in stores and overseas!
Next, as you read on…. WELCOME to the home site of the Amazing Merry Movies! Yes, Welcome to a place WHERE YOU CAN SEE 5 of Joslin's top selling children's books COME TO LIFE RIGHT IN FRONT OF YOUR EYES.
And as, these EXCITING stories that TEACH VALUABLE LIFE LESSONS) ….. have just been turned into Animated MOVIES by a World Renown Motion Picture Company. You will love sharing these books and stories with your family! You will also enjoy watching each film clip, since they all have special running times, with different things for you to hear and see.
Now, in those Sincere WELCOMES…WOULD YOU LIKE TO WATCH THESE MOVIES DIGITALLY? And STREAMING THEM ON ALL YOUR DEVICES (including your TV).. WOULD YOU LIKE TO GET A FREE GIFT? Well knowing that you do, just keep reading. Because for MORE GOOD NEWS! THESE EXPERTLY MADE MERRY MOVIES, THAT HAVE BEEN MADE FROM SOME OF JOSLIN FITZGERALD'S BEST SELLING CHILDREN'S BOOKS…ARE NOW AVAILABLE DIGITALLY! AND THEY COME WITH A FREE COOL GIFT FOR YOU.
YES, THESE MERRY MOVIES ARE AVAILABLE DIGITALLY ALSO ON DVD, OR JUMP DRIVES. BUT THEY ARE ONLY FOR SALE BY THE AUTHOR! SO, FOR YOU TO OWN THESE ONE-OF-A-KIND MOVIES THAT HAVE BEEN PRODUCED BY A WORLD REKNOWN FILM COMPANY JUST CLICK ON THE PRETTY BLINKING STOREFRONT BUTTONS OR CLICK ON THE EQUALLY PRETTY DIGITAL BUTTONS.
BUT TO BE APART OF A FREE DRAWING THROUGH OUT THE YEAR THAT WILL INCLUDE AN AUTOGRAPHED COPY OF ONE OF THE AUTHOR'S CHILDREN'S BOOKS. AS YOU FIND OUT HOW TO STREAM THESE NEAT MERRY MOVIES THAT HAVE BEEN CREATED FROM BEST SELLING CHILDREN'S STORIES…ANY PLACE AND ANY TIME. JUST CLICK ON ANY OF THE DIGITAL DANCING BUTTONS THAT WILL TAKE YOU TO OUR NEW HOST SITE!
So HOW DO YOU GET A GIFT FOR FREE? And why do you want to subscribe to our host site and watch the movies digitally? Well to put it simply, when you enroll into our MERRY FAMILY you will get a chance to win a FREE GIVE AWAY! Next you want your family to watch these Merry Movies anytime anyplace! So, the reason you want to use our host site…is if you individually bought these movies to stream digitally you would be storing about 50 gigs of animation ON YOUR COMPUTER. That means, with us having no way to sell these MOVIES digitally. With each MERRY MOVIE having tons of animation to store, we would be taking up space, that none of us want to waste.
But, if you use our amazing, well known, and respected PATREON Host site, without the movies taking up your computer space…. for only One or Two Dollars a month… your kids will be able to watch these original films morning to night anytime on all devices. Plus, Once a Week, you will receive a COOL AUTHOR BUILD A BOOK MERRY DAY VIDEO TOO that will give you, New, AUTHOR views into the stories. And with your subscription you will also be a part of a yearly GIVE AWAY!
So please check out our storefront for the DVDS and Jump Drives. And with you also needing a break from REALITY!! You will see that these delightful Merry Movies will be as much fun for the adults as they are for the kiddies!!!
But if you want to win a FREE GIVE AWAY. And if you want to buy the MERRY MOVIES DIGITALLY also check out our NEW DIGITAL Host site and see what other SPECIAL FREE OFFERS COME WITH BEING APART OF OUR MERRY FAMILY.
NEXT TO GET A SNEAK PEEK INTO THE MERRY MOVIES PLEASE CLICK ON ANY OF THE ABOVE SHORT FILM CLIPS (that each have different running times, and different things to SEE ) Then watching THE MERRY MOVIE PREMIERS, YOU WILL FIND THESE MOVIES WILL BE GREAT FUN FOR YOUR FAMILY. AND A GREAT NEEDED ESCAPE FROM REALITY FOR YOU TOO!
SO AS, YOU WATCH THESE ORGINAL ONE OF A KIND FAIRY TALES COME TO LIFE...WELCOME TO THE HOME OF THE AMAZING, FUN, MERRY MOVIES! WHERE A FEW OF THESE EXCITING, COOL BOOKS, HAVE BEEN MASTERFULLY TURNED INTO THRILLING 30 MINUTE FILMS!
YES, WELCOME TO A FANTASY SITE, WHERE YOU WILL SEE AND HEAR THESE TOP SELLING STORIES TURNED INTO ONE-OF-A-KIND MOVIES. WHERE THE MAGICAL BOOKS WILL BE READ DIRECTLY TO YOUR CHILDREN BY A CARING, PROFESSIONAL NARRATOR!
YOU WILL HAVE TONS OF FUN BEING HERE! BECAUSE THIS IS A FANTASY PLACE FULL OF SWEET TREATS. CANDY. LEARNING. TEACHING. ONCE UPON A TIMES. ADVENTURES. SECRETS. MYSTERIES. AND HAPPILY, EVER AFTERS!
YES, THIS IS A MAGICAL PLACE FULL OF DROPPING LOLLIPOPS WHERE BEAUTIFUL, HIGH DEFINITION, MUSICAL, ANIMATED, ANIMAL SOUND FILLED, MOVIES AND JOURNEYS WILL BE WAITING FOR YOU!
Of note… THE VIDEO CLIPS HERE WILL NOT BE THE SAME HIGH QUALITY THAT YOU WILL BE BUYING! Additionally due to the unique, new, awesome Animation moving over the Shadowed words. THE TEXT ON ALL OF THE MOVIES WILL BE HARD TO READ. So to read the HIDDEN words please buy the books. But, to SEE and HEAR these neat books come ALIVE right in front of your delighted eyes!
Please Enjoy samplings of the 30 MINUTE Merry Movies that are each filled with very NICE SURPRISES! And remember Merry Movies are not audio books, or cartoons. THESE ARE REAL MOVIES made for kids. AND THEY ARE ONLY AVAILABLE THROUGH THIS AUTHOR!!
So, to buy the MERRY MOVIES that are all HIGH DEFINITION, HIGH RESOLUTION, TECHNOCOLOR, PROJECTION, SOUND AND MUSIC FILLED THAT EACH TEACH FUN LIFE LESSONS to all Kids. And to get a FREE MOVIE…please click the pretty Blinking Spots.
Next TO LEAVE A REVIEW FOR THE MOVIES OR BOOKS (WITH FIVE STARS BEING THE HIGHEST.) CLICK ON THE BOOKS PICTURE BELOW. THEN MOVE DOWN TO THE Amazon or Walmart REVIEW BOX, WRITE YOUR REVIEW AND CLICK SEND. THAT'S IT. And just like that you shared your great experience with another family as you encouraged them to enjoy these cool books, and listen, then SEE these beautiful Merry Movies too.
Yes, please enjoy these COOL MOVIE CLIPS! But, as you watch them Remember, these are NOT BOOK TRAILERS, CARTOONS or AUDIO BOOKS- Instead MERRY MOVIE Clips are unique audio MOVIE SNEAK PEEKS that have been taken directly out of Joslin's popular children's books.
Then to watch THE SMALL STAR FILM CLIP and TO SEE THE NEXT EXCITING MOVIE THAT WILL BE COMING SOON! By taking a peek into an OUT OF SIGHT WORLD LOCATED SOMEWHERE IN OUTER SPACE you will see an example of a Cool, One-of-a- Kind Special BUILD A BOOK PLAY DAY Video made by the Author who is also a digital designer.
AND AS YOU ARE WATCHING THE MOVIES OR BOOK CLIPS, PLEASE KEEP IN MIND THAT THESE MOVIES WILL NOT BE SOLD IN STORES OR WITH ANY OTHER DISTRIBUTOR. THAT MEANS THESE COOL MOVIES AND VIDEOS WILL ONLY BE AVAILABLE THROUGH THIS AUTHOR AND THIS COOL WEBSITE!
But remember these MOVIES are not meant to take place of the books, because the animation will be moving over the words. AND THE TEXT WILL BE HIDDEN IN THE SHADOWS. MEANING YOU WONT BE ABLE TO READ THE BOOK ON THE MOVIE. So to read the story… please buy the book. But to LISTEN TO THE STORY BEING READ TO YOUR KIDS….. ENJOY THE MOVIES your child will want to watch again and again!
NOW READ ON AND LET'S TALK ABOUT THESE BEAUTIFUL COOL BEST-SELLING CHILDREN'S BOOKS! INCLUDING THE FIVE STORIES… THAT HAVE JUST BEEN TURNED INTO MERRY MOVIES!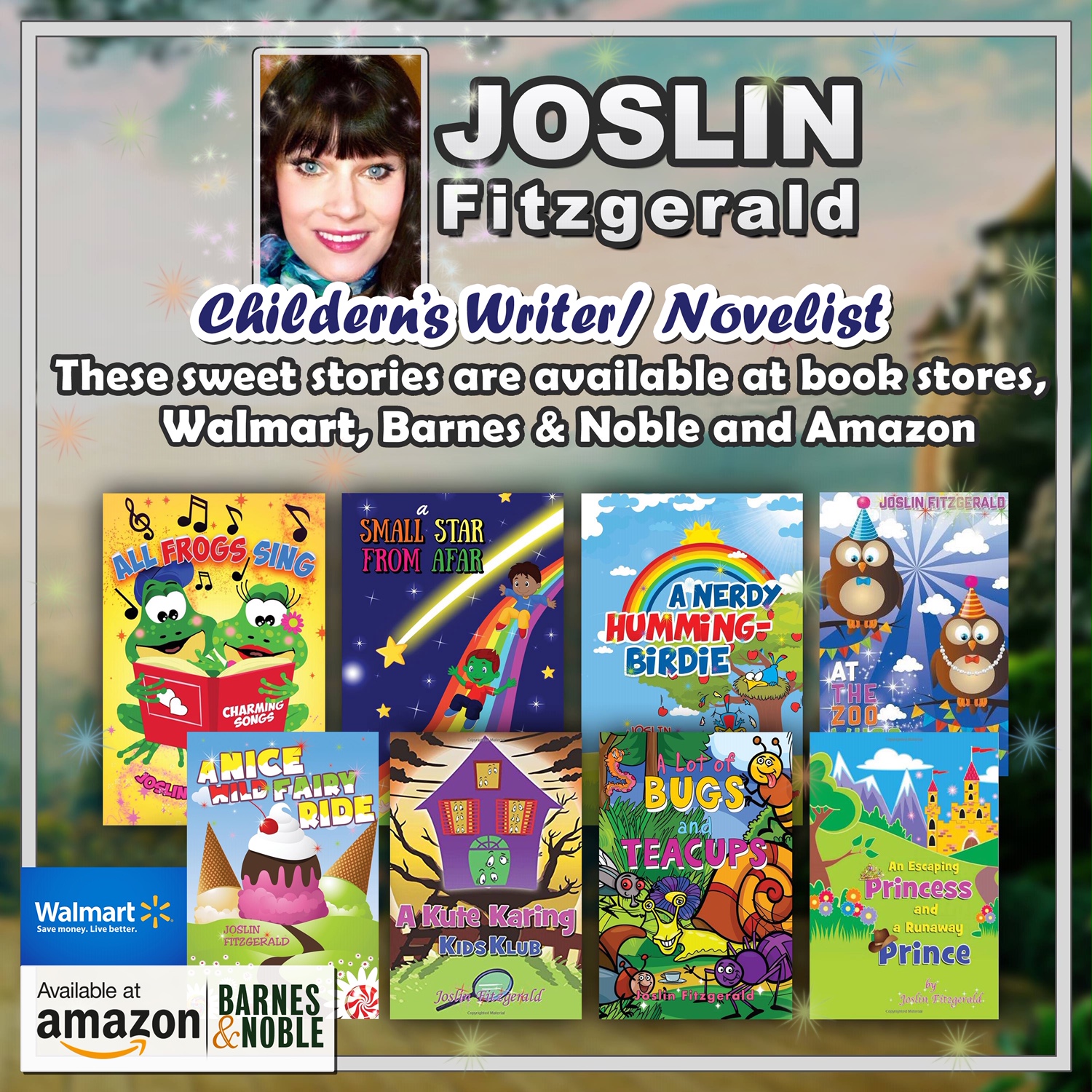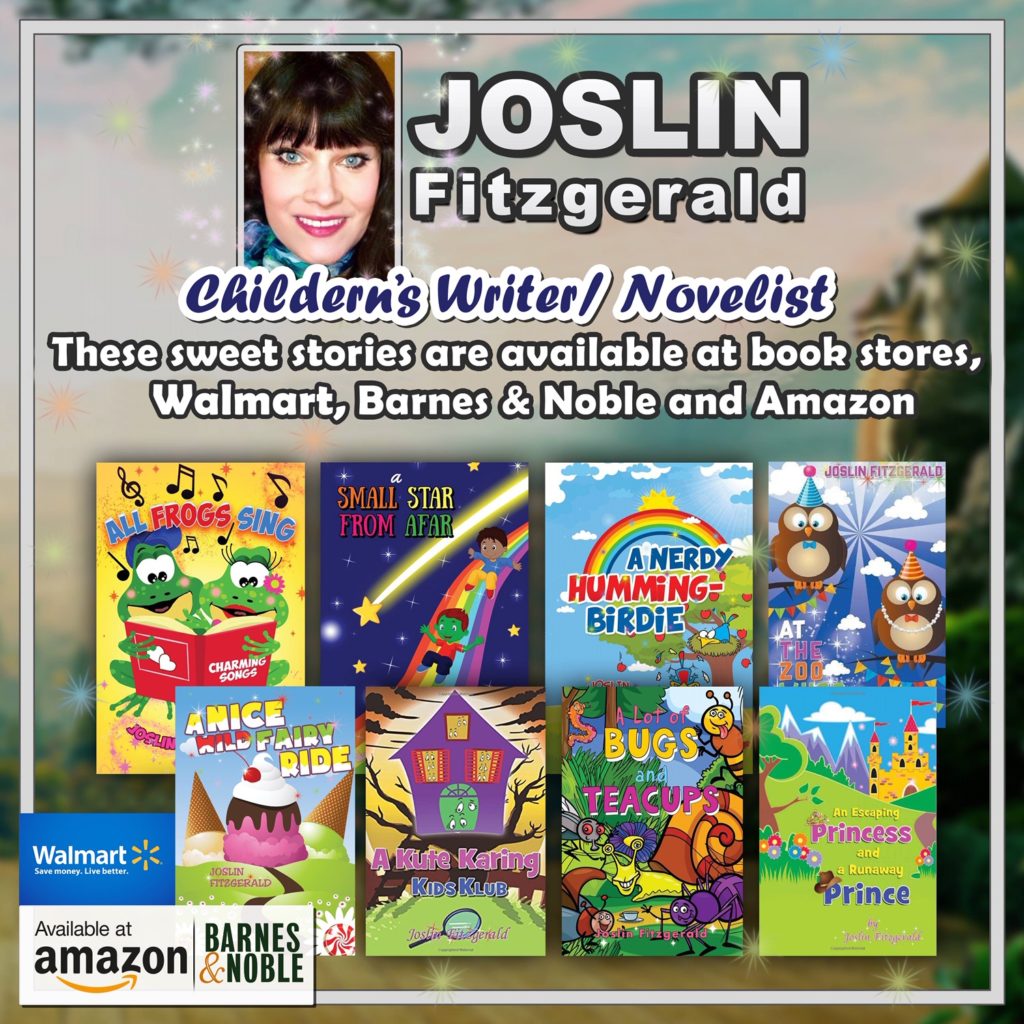 (Click on the book cover pictures to read about the story, see reviews, and buy on Walmart, Target, Barnes and Noble, and Amazon. TO LEAVE A REVIEW FOR THE MOVIES OR BOOKS (FIVE STARS IS THE HIGHEST.) CLICK ON THE BOOKS PICTURE. THEN MOVE DOWN TO THE REVIEW BOX, WRITE YOUR REVIEW AND CLICK SEND. THATS IT..LEAVING A REVIEW IS SIMPLE, ALSO FAST, AND IS A GREAT WAY TO SHARE YOUR CARING AND HAPPINESS WITH OTHERS THAT WILL ENCOURAGE THEM TO ENJOY THE COOL STORIES AND MOVIES TOO.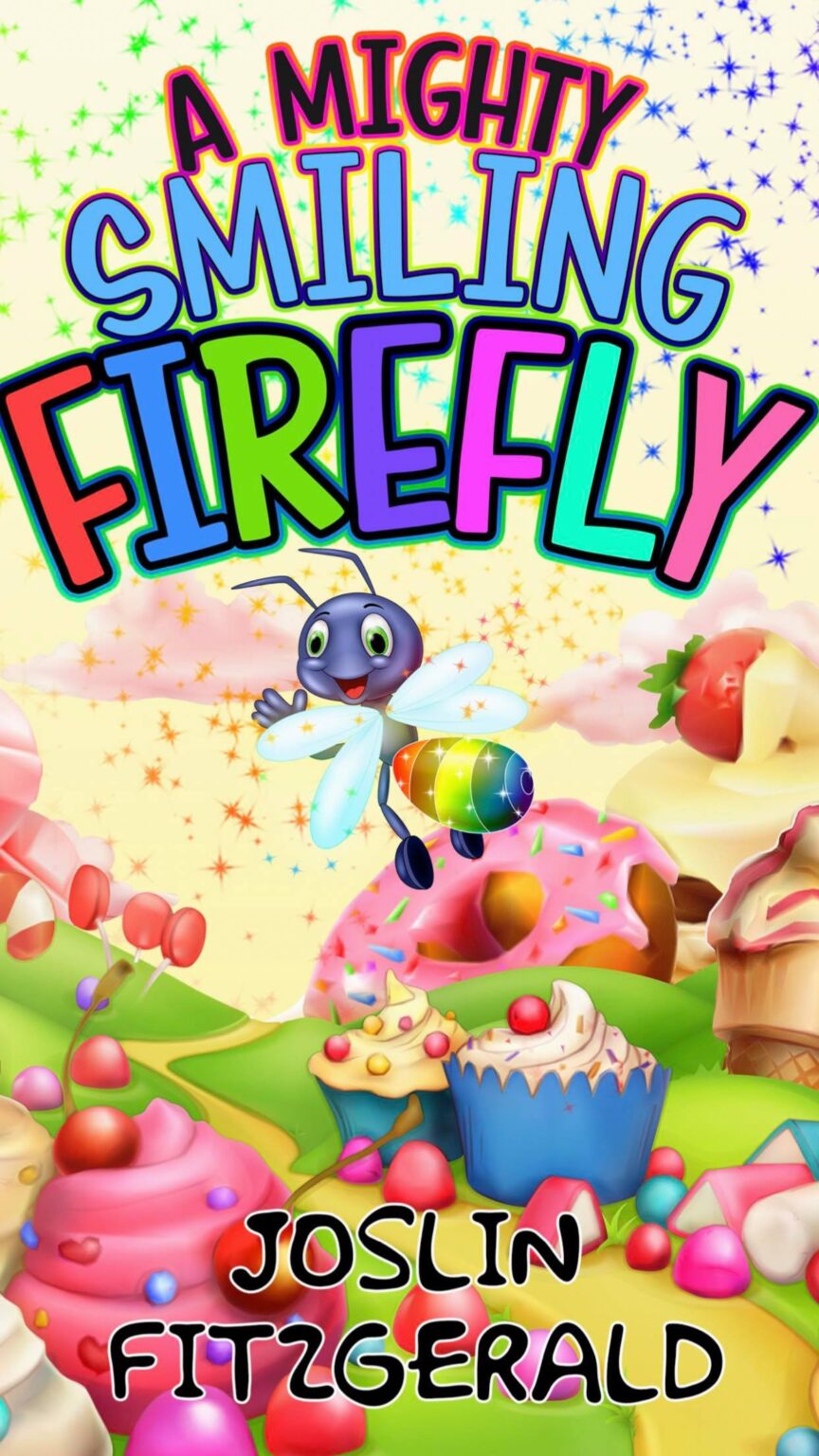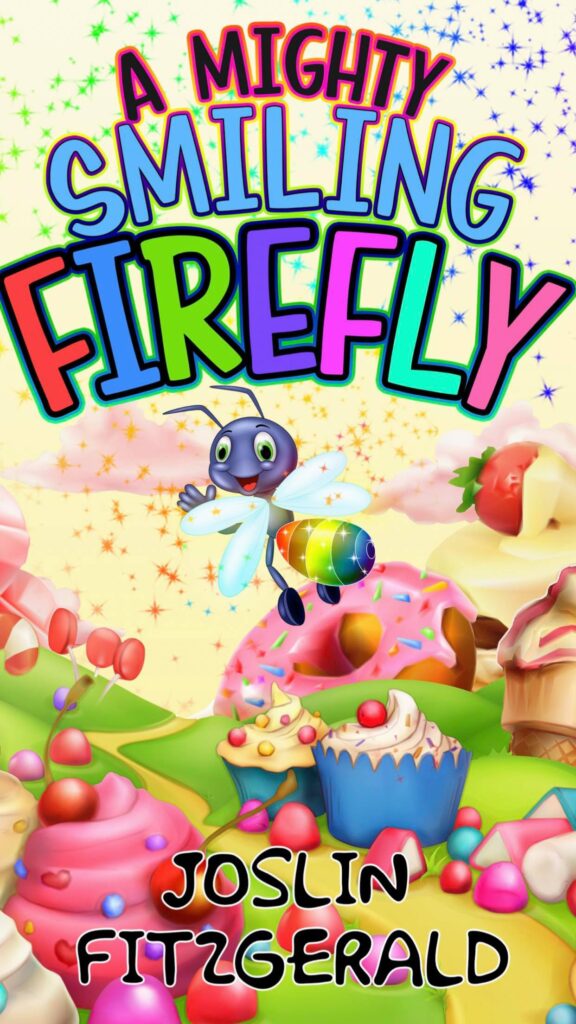 PRIME Members, order your books here and get free two day shipping!
Already ordering your groceries or other household items? Spend $35 and you'll get all these books shipped free too!
Barnes and Nobles members get free shipping every day!
CLICK BELOW TO VIEW THE 5 VIDEO TRAILERS FOR THE CHILDRENS' BOOKS (please allow for a slight delay between videos, and refresh the site to watch them again)
Circles Legacy Series
CLICK BELOW TO VIEW THE 3 VIDEO TRAILERS FOR THE CIRCLE'S LEGACY BOOKS
The Latest from Joslin's Blog:
Being a Christian and also a professional children's book writer, artist and author. I believe faith, writing, and art are songs of the heart. So just as words paint a story, and become a poetic picture in a book to praise The Lord… I see that a canvas becomes living poetry, as it too comes to life in the same picturesque way.
So I strive every day to be an artist of words, a painter of life and a follower of faith.
– Mary Fitzgerald Joslin /(Author Joslin Fitzgerald)